10 Ways to Calm Your Wedding Stress
Updated: Jan 11, 2020
Hey future brides!
Listen, I know it can be stressful planning your wedding, but it does not have to be. You are in control of your mind and all of your thoughts. It is time to let those worries go and enjoy the excitement of what is to come. YOU ARE GETTING MARRIED. Love is in the air and you are about to marry your best friend! There should be no time for getting stressed over whether the guest list is perfect or whether the decorations are just right. This time should be a time of excitement. Enjoy yourself as you plan for your big day! This day for most, it comes once, and it shouldn't be wasted by stressing over little details. I understand, you want everything to be perfect, but life is not perfect. The sooner you embrace the chaotic yet beautiful process of wedding planning, the sooner you will let go of your worries. Here are 10 ways to Calm Your Wedding Stress.


1. Find Your Dress Early (Like a Year Early!)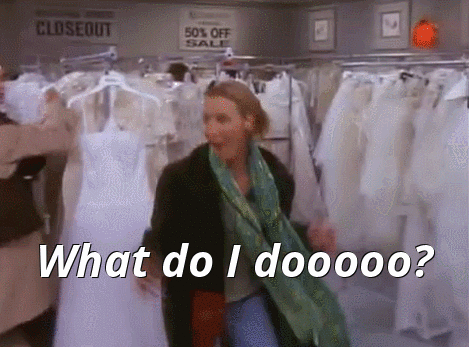 Please please please find your dress early babe! It takes 4-6 months for your dress's order to ship in and then you need time for alterations. Bride's that wait last minute to find their gown have limited time which means they might not have enough time to get their dream dress. The dress is the biggest piece in the wedding planning, and once you have that checked off your list you won't have to worry about looking for your dress! It's also so important that while you are dress shopping that you do NOT let the opinion of other's determine your decision. This is your wedding, not theirs. You deserve to feel beautiful in your own skin in the dress you love. Lastly, after you buy your gown... STOP LOOKING FOR OTHERS. Limit yourself. Book one appointment at a time at a bridal shop until you find your dream dress. If you are trying on a dress and are absolutely over the moon with it, it's probably the one! Don't psych yourself out!
2. Get a Wedding Planner
Getting a wedding planner will allow yourself room to breathe on all the wedding details that can be hard to manage alone. Counting in any stresses from family to ceremony or reception planning, a wedding planner will lighten your load and help you see a clear vision for your wedding. We have a wonderful wedding planner at Grace Style and Bridal, our owner, Ashley Shaw! She own's Honey and Shaw Wedding Planning and Floral Design.
Link to Ashley's Instagram!
https://www.instagram.com/honey_and_shaw/?hl=en
3. Spa Day: Treat Yourself
Go treat yourself! You deserve time to relax and enjoy yourself with spa treatments, manicures, pedicures, facials, etc.


4. Go Out With Your Girls
Take a night (or a few) to go out with your bride tribe! These memories will last a lifetime and what a better way to enjoy the excitement of your wedding than to celebrate with the ones you love. Surrounding yourself with the people you love will ease your mind!


5. Organize a Pinterest Board
During this season, creating a Pinterest board is a great way to stay organized. Having all your ideas in one place will allow you to clearly see a vision for your ceremony and reception. It's also super fun to get new ideas to make your wedding unique to you and your fiancé.


6. Spend Special Time With Your Soon-To-Be Hubby
Amidst all the chaos, find time to celebrate the excitement of the future with you fiancé. Life goes by so quickly, embrace every little moment you have before you two tie-the-knot.
7. Watch Your Favorite Wedding Inspired Movies
What a better way to be inspired for your wedding than to watch your favorite movies! Have a girls night or watch one with your fiancé.


8. Get Good Sleep